Banner Stands, Exhibition Stands and Portable Display Systems
Display Systems For Exhibition, Conference Or Promotional Events
We provide a full range of high quality portable exhibition stands and display systems:

If you require a portable display for your next exhibition, conference or promotional event - one that can help set you apart from your competitors - then you can be assured of a reliable and high quality service from Redcliffe Imaging.

Even if your event is only days away, we can ensure your representative will not be left standing in an empty space!
Display Graphics, Fine Art Printing, Wallpaper and Card Printing Services
Special Offers - Special Offers - Special Offers
E.g. Double Sided Feather Banner 550mm w x 3000mm h

Was £276 - Now Just £180 - Save 35%!

Choose a ground stake for use on grass or earth. For concrete or hard floors choose either a car wheel mount, weighted circular rubber base or folding rotating cross base with optional weighted water base.

The latest fabric printing technology and quality inks give brilliant colours and graphics
Can print different images on each side of the banner
Simple handling, no tools required
Patented "Quick Connect" system strengthens the base
Durable and compact commercial grade fibreglass poles
Poles fold down to 1.5m (5') sections for easy transport
Preparing For An Exhibition - Your Guide To Successful Exhibiting
Check our article on Preparing for an Exhibition - Trade shows and exhibitions are a unique chance for potential customers to see, hear, touch and experience your product or service first hand, for the same cost of a colour page ad in a trade journal.
There exists no other way in which you can demonstrate your product or service to so many potential customers in such an effective environment. Nine out of ten visitors to exhibitions have an influence on the buying decision of their company or organisation.
READ - Preparing for an Exhibition
Pop Up Stands
Pop Up Exhibition Stands are are a cost effective way to visually communicate your products, brands or message. They come complete with carry cases and can be covered in either fabric or graphic panels. These lightweight, easy to use and easily transportable pop up display systems can be assembled in just minutes for a lasting impression!
You can make a big impact in a small space with a pop up stand, their large surface display area makes them ideal for displaying graphics at exhibitions, conferences, presentations or static information displays. New replacement display graphics are available for all display pop up stand makes, including Nomadic, Marler Haley and Nimlok.
Banner Stands
Our portable Banner Stands, like the Promoter Roller Banner Stand from £66, allow you to promote and advertise your business almost anywhere. These banner stands are very sturdy, quick and easy to set up and have easily replaceable graphics. This makes banner stands ideal for reception areas, in-store promotions and to guide visitors at conference and exhibition venues. One person can easily set up two or three banner stands to create an impressive display area at any venue.
The range includes a tension, roller and cassette versions, which roll up into a light-weight tube or carry bag, as well as outdoor banner stands. All banner stand prices include the graphics!
Shell Schemes
Shell scheme stands are often offered at exhibitions and trade shows. The show organiser may offer you a shell scheme package, these are pre-erected rows of stands with a name board with your stand number, you turn up and decorate the empty stand yourself. As an exhibitor you want your display to stand out from everyone else and to attract as much custom as possible and shell scheme graphics can help you achieve this.
Exhibition Stand & Equipment Hire
Exhibition Stand Hire is a cost effective solution for portraying your company message. With a wide choice of portable presentation systems to suit any type of exhibition or venue - from panel systems, folding kits, pop-ups and banners to a range of portable furniture, lighting, display units and accessories. We can fit the brief or budget to maximise the visual impact of your presentation.
Our dedicated hire team will manage your project from specification and design through to delivery, installation and break-down - we take care of everything.
Outdoor Banners
The Monsoon Outdoor Banner Frame is very easy to use, it's reusable and is the perfect graphics carrier for venues, events, exhibitions, promotions and indoor or outdoor shows. Flying Banners are great for in-store, indoor and outdoor use and are manufactured in various sizes to meet all demands.
Modular Graphic Display Systems
We offer a modular display system that can be easily assembled in just a few minutes and is ideal for large, impressive graphic displays in showrooms, shopping malls and at exhibitions.
This innovative range of semi-permanent Modular Display Systems give you point of sale and exhibition stand display solutions. Featuring sleek satin anodised aluminium profiles to create contemporary graphic display structures in both curved and straight configurations. These magnetically mounted panels offer easy assembly and present a fantastic seamless graphic appearance.
Display Equipment and Accessories
A complete range of presentation and Promotion Units, including Literature Racks, Portable Counter Units, Display Plinths and Lecterns, all designed to compliment your exhibition stand and help you achieve a professional result.
Poster and Display Graphics
If you need a Poster Printing in a hurry then our short run, top quality, full colour digital printing with a fast next working day delivery will ensure you get your message across on time. Ideal for conferences, trade shows, shops and offices. Our digital printing service is used by universities, the NHS and Future Publishing who all rely on a quick turnaround. Order your poster printing on line now! Orders are accepted 24 hours a day, 7 days a week.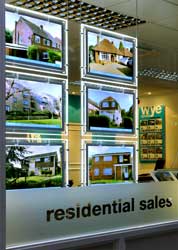 LED Light Pockets are the very latest in illuminated Estate Agents window displays, with a new way of illuminating your property displays, ensuring they, and your business, get noticed.
Position in the window or interior of your premises. Make stunning window displays or use the double sided units to create partitions within your premises. Single sided units are excellent for brightening up dark areas of a room. Transform the appearance of your premises with these ultra slim LED light boxes that are only 14 mm thick.
The Light Pocket is suspended from almost invisible powered cables which are fitted between floor and ceiling.
Custom Wallpaper Printing
Custom wallpaper printing for your home, office or retail interiors. Bring an entire empty wall to life with custom printed wallpaper. Just pick a wall, create your own design from scratch or choose an image or illustration and easily install it when your wallpaper order arrives. Custom wallpaper printing allows you to choose your own photos, images or designs for home, office and retail interiors.
NEW - Ordnance Survey Custom Printed Wallpaper Maps produced to your exact wall dimensions and in a range of colour styles. Make an eye catching feature of a wall at home or in the office with our popular local postcode map wallpaper.
Giclee Printing Services

Giclee Fine Art Printing Service for self publishing artists, photographers and illustrators. Redcliffe Imaging is a Fine Art Trade Guild Accredited Printer. Only prints by members of the Guild conforming to Guild Standards can use the Guild logo. The Guild sets standards for print publishing in order to protect the interests of the public and maintain confidence in the publishing of fine art.
Using the very best fine art papers, your original artwork can be reproduced as a limited edition Giclee Fine Art Print. Our fine art papers are sourced from these three world famous paper mills - Hahnemuhle - Canson and Arches - St Cuthberts Mill.
Custom Printed Cards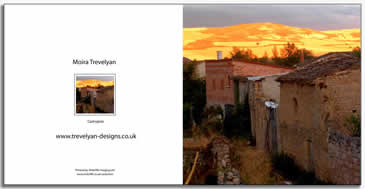 Custom Printed Greeting Cards are the cost effective way to market your work. We can produce very high quality greeting cards, postcards and business cards direct from your digital image files and we put a lot of care and attention into achieving the result that we hope you will be delighted with.
Design Your Own Greeting Card. Each card includes your image on the front of the greeting card with your name, thumbnail image, image title and contact details on the back. Choose a card template, upload your image file and then add your text. You get to see exactly how your card will look when printed. Then place your order for greeting cards in the normal way. Your greeting card is printed on 350gms smooth white card, trimmed, folded and finished by hand. Each card comes with a bright white envelope and an optional high quality, self seal acetate sleeve.
Point of Sale Display Systems
Choose from a full range of retail display systems that will grab your customers attention in reception areas, retail shops, airports and many other applications. Stop people in their tracks with eye catching freestanding display stands to present your posters, leaflets, brochures and products. Effective point of sale display promotion will draw your customers attention to new products and special offers.
The ultimate range of high quality creative communication solutions with our Point of Sale display equipment, choose from wall mountable poster frames, suspended poster frames, A-frames, information points, menu boards, lightboxes, brochure stands, literature racks and graphic panels.
Clients Include
Rolls Royce
Clarks Shoes
Harvey Nichols
Hewlett Packard
BBC
Sport England
Clerical Medical
Readers Digest
Prudential Assurance
AXA Sunlife
Royal Mail
Budweiser

Royal Mint
UK Transplant
NHS
Lloyds TSB
Allied Domecq
Co-operative Bank
Royal United Hospital
Tesco Stores Ltd
Royal Berkshire Fire Authority
Guy's & St Thomas' Hospital
Castrol
London School of Economics
For more information or advice on these products contact:
| | | |
| --- | --- | --- |
| Louise Bradforth | louise.bradforth@redcliffe.co.uk | 0117 952 6065 |
| Joanne Burr | jo@redcliffe.co.uk | 0117 952 6067 |
| | | |
Tell us your requirements, we can suggest the most appropriate solution for your display needs.
Services

Information

Other Services

GeoTrust® Secured