Twist Flexilink Banner System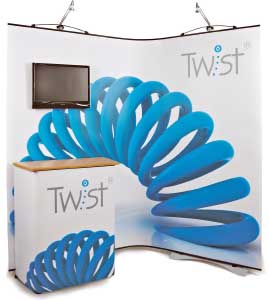 With an unprecedented amount of flexibility from a portable and modular display stand, the Flexilink Banner System offers you a true return on investment; simply Twist, bend and shape the stand to your needs. The days of being stuck with one stand configuration are at an end.
The Flexilink system is a 550mm wide graphic panel that sits between two Twist banners, allowing you to form a controlled curve to an angle you require with the ultimate ease. This allows you to create and recreate virtually any stand shape you require without having to change hardware or graphics.
Designed not only to look different when compared to the majority of exhibition stands, the Flexilink, when used in conjunction with the Original or Media Twist, offers greater flexibility for companies who do not always know what their stand space is going to be. Varying heights and the ability to link an unlimited amount of both Original and Media Twist banners together, the Flexilink panel offers the ability to create backdrops and exhibition displays that are not only unique and strong, but are also easy to assemble and transport.
The self levelling system incorporated through our patented tensioning system is what really makes this system work so well. Any amount of Original or Media Twist banners, joined by the Flexilink, can be used to form an infinite seamless display; moreover, the Flexilink can be used to change heights adding further impact to your displays.
Linking two or more Twist banners with the Easi-Link Kit allows you to create a seamless image or back wall with the added benefit of being able to use the banner on its own when the need arises; ideal for departmental functions, window displays and conferences.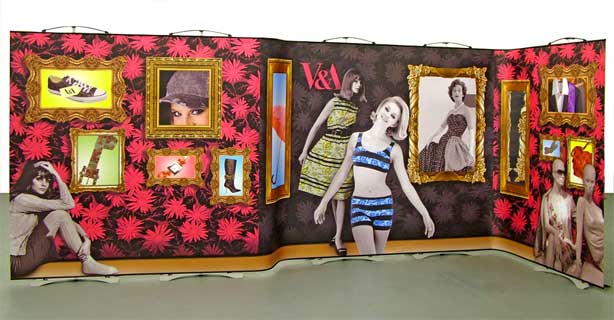 | | | |
| --- | --- | --- |
| | Two stands received just now, very pleased with them, eye-catching but light and portable, looking forward to evaluating them at the exhibition next week - Best Training | |
For more information or advice on these products call:
or use the quote form to tell us your requirements, we can suggest the most appropriate solution for your display needs.
Join the Redcliffe Imaging mailing list - be one of the first to know about money saving special offers and brand new display products that will help get your company noticed.

Services

Information

Other Services