Giclee Fine Art Printing - Hahnemuhle German Etching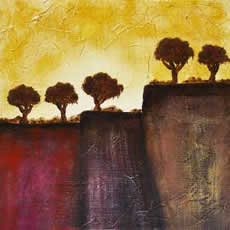 From the Hahnemuhle Digital Fine Art range of papers, German Etching is a 310 gsm genuine mould-made, heavy-weight, archive grade (acid free) etching paper that has a matt, velvety surface and the attractive warm white shade of a traditional artist's board making it ideal for sophisticated original prints and also for reproductions of lithographs and pastels.
German Etching has a slightly warmer base than Photo Rag, and a marginally more visible felt mark, the slight texture imparted from the blanket during the forming process. The name suggests a surface similar to an etching paper which will also reproduce traditional prints excellently.
German Etching is one of the most popular media worldwide for artwork and photography.
Giclee Print on Hahnemuhle German Etching Paper
Please enter the quantity of prints you require and the exact print size in mm.
We will automatically add an extra 25mm border around your print.
Press Order Print to continue on to our secure payment facility.
After entering your payment details you will then be able to upload your print file.
FREE DELIVERY - Fine art print orders shipped free of charge in the UK
Extra Border

The print price includes an extra border added to your print for mounting and framing purposes.

Example: If you decide to order a 300mm x 220mm print we will add an extra 25mm border around your print. The final sheet size you receive will be 350mm x 270mm.

The 300mm x 220mm image will be centred on the 350mm x 270mm sheet.

Print Size Proportions

Please note: If your image does not fit the proportion of the print size ordered we will fit your image within that size. This means you will see an extra wide border left and right or top and bottom.
FREE Super Saver Delivery
Redcliffe Imaging offers free UK mainland delivery on all fine art print orders placed on-line and paid by credit or debit card. Subject to a minimum order value of £10
When your order is completed it will be delivered by Royal Mail, or alternative carrier, at your normal post delivery times. There is no track and trace available on this delivery option.
Please allow up to 10 days for arrival of your order. Should your goods not arrive in this time frame please contact Customer Service on 0117 952 0105.
Certificate of Authenticity - Artist and Printmaker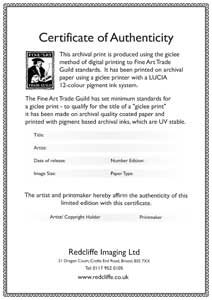 Redcliffe Imaging is a Fine Art Trade Guild Accredited Fine Art Printer. Only prints by members of the Guild conforming to Guild Standards can use the Guild logo.
To help you market your giclee print, Redcliffe can provide you with a hand embossed certificate of authenticity. The certificates are printed on archival paper and can be signed by both the artist and printmaker. We offer two types of certificate:
For one off or open edition prints the certificate contains information on the artist, the title of the work and the media used.
For limited editions the certificate contains information on the artist, the title of the work, the media used and the number and date of release of the edition.

Open or Limited Edition Printing

The VeriSign® Secured Payment Facility will issue you with your Order Reference Number. Please make a note of your reference number and use it for any queries you may have with your print order. Your card will not be debited until your print order is ready to be despatched. Redcliffe Imaging is committed to protecting your privacy and maintaining the security of any personal information received from you.

Question or query on placing your order? Use our contact form or see our FAQ.
Preparing Your Image files for Printing
We want you to get the best quality fine art print from your artwork or photographic image. Follow our guidelines on:
Checking your image file quality, not sure if your file is suitable for printing?
Ordering proof prints, a set of proof prints on your chosen media sent back to you for approval
Checking your monitor, is your screen set too dark or too light?
Soft proofing your image in Photoshop
Image file checklist to ensure you get the best possible print result

Find out more about Preparing Your Image files for Printing

Find out more about Ordering Proof Prints

Find out more about Free File Checking Service
Hahnemuhle German Etching Print Prices
| inches | mm | German Etching |
| --- | --- | --- |
| A4 | 297x210 | £10.60 |
| 12x10 | 305x254 | £13.17 |
| 12x12 | 305x305 | £14.23 |
| 14x10 | 356x254 | £13.83 |
| 14x12 | 356x305 | £16.61 |
| 14x14 | 356x356 | £17.24 |
| 16x10 | 406x254 | £15.78 |
| A3 | 420x297 | £16.96 |
| 16x12 | 406x305 | £16.84 |
| 16x14 | 406x356 | £19.66 |
| 16x16 | 406x406 | £22.42 |
| 20x10 | 508x254 | £17.55 |
| 20x14 | 508x356 | £23.06 |
| 20x16 | 508x406 | £26.30 |
| 20x20 | 508x508 | £30.71 |
| 24x16 | 610x406 | £31.58 |
| A2 | 594x420 | £29.69 |
| 24x20 | 610x508 | £36.88 |
| 24x24 | 610x610 | £44.28 |
| 30x20 | 762x508 | £46.06 |
| 30x24 | 762x610 | £55.31 |
| 30x30 | 762x762 | £59.23 |
| A1 | 841x594 | £50.95 |
| 36x24 | 914x610 | £56.87 |
| 36x30 | 914x762 | £71.04 |
| 36x36 | 914x914 | £85.21 |
| 40x30 | 1016x762 | £78.97 |
| A0 | 1189x841 | £101.99 |
| 40x36 | 1016x914 | £94.72 |
| 40x40 | 1016x1016 | £105.29 |

German Etching - Data sheet

German Etching - Download ICC Profile
For more information or advice on Giclee Printing call Wayne Cullinane, Ellie Bartlett or Emma Neville on 0117 952 0105 or use the contact form to tell us your requirements, we can suggest the most appropriate solution for your fine art printing needs.
Services

Information

Other Services

VeriSign® Secured Payment Facility