Fine Art Trade Guild Publications
Here you can buy publications to help you get started as a self publishing artist, illustrator or photographer. These books also make great gifts for anyone who has an ambition to sell their own work.
The Artist's Guide to Selling Work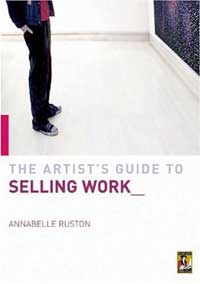 This is a guide to important points that any artist should know when trying to sell work, like selecting the right gallery, approaching galleries, pricing, terms and conditions, other options, artists' agents, working with publishers and public art commissioners.
The book also contains sample contracts and a list of other legal considerations, notes on websites and Internet sales and lists of useful addresses. This book aims to be every artist's handy guide on how to go about selling their work.
Practical and Pragmatic
The indispensable handbook for all working artists and photographers, it is packed with very useful, practical and pragmatic information. Written in an easy to understand style, the sections on contracts and copyright are a must for any self publishing artist.
The Artist's Guide to Selling Work by Annabelle Ruston. Paperback 128pp
The Artists' Yearbook 2010 - 2011
"All the contacts an artist could ever need" - The Times
The Artists Yearbook has firmly established itself as the best comprehensive, annual reference guide to getting ahead in todays art world. Offering advice, inspiration and information in one fact-packed volume, it features carefully vetted information on and contact details for more than 3,000 visual-arts businesses and organizations.
New to this edition are a full update on Arts Council England funding and programmes plus new advice from Elinor Olisa of Degree Art.com on how artists can promote themselves and work with galleries.
"Concise information for artists, up to date gallery, web info. lots of information that is suprisingly useful. I usually buy one every couple of years." - Gilder-Mcrae
The Artists' Yearbook 2010 - 2011 by Elinor Olisa. Paperback 544pp. Now in its fourth edition.
Starting Up a Gallery and Frame Shop
Written in conjunction with the Fine Art Trade Guild, this book offers advice on starting up your own gallery. It covers all the basic questions involved such as the pros and cons of running your own busines, choosing premises, start up and running costs, typical leasehold agreements, financial projections, grants, business plans, cashflow and financial management, contracts, exploring product groups and sourcing products, pricing, role of computers, the internet and e-marketing, capital investment, effective marketing, stock display, sales techniques, employing staff, legalities, etc. There are also case studies.
"Covers absolutely everything you're likely to encounter from bureaucracy to finance, marketing, display, and staff." - Art Book Review
"The subject matter flows well from one chapter to the next and in a very logical order, so the things you need to think about first, you read about first, and the book will give you a lot to read about." - Art Business Today
Written in conjunction with the Fine Art Trade Guild, this book offers advice on starting up your own gallery.
Starting Up a Gallery and Frame Shop by Annabelle Ruston. Paperback 238pp
The Artist's Giclee Handbook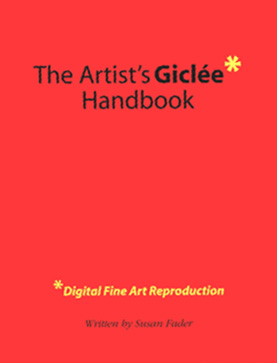 Written specifically for artists who use paints, pastels, graphite, or other media to create one-of-a-kind 2D originals.
A lot of the advice given doesn't pertain to digital photographers who sell fine art photography because starting with a digital image is far different than reproducing art originally created in other mediums.
The eight chapters in the book cover much more than the technical fundamentals of image capture, colour control, media selection, and printing. It talks about what to expect during the proofing process and provides tips for choosing print sizes, determining edition sizes, and selecting print media. Plus, it suggests ways to increase the value of each print, and professionally present, package, ship, and store prints.
To read excerpts from the The Artist's Giclee Handbook and place an order, visit www.artistsgicleehandbook.com
The Artist's Giclee Handbook by Susan Fader. Paperback 120pp
For more information or advice on these products call Adrian or Tim on (0117) 952 0105 or use the contact form to tell us your requirements, we can suggest the most appropriate solution for your display needs.
Services

Information

Other Services

VeriSign® Secured Payment Facility