Setting the Right Price
Artist, Photographer and Illustrators Guide to Pricing Your Work
You have created your high quality digital file and now you are ready to start selling your digitally made giclee prints how do you price your work? If you set your prices too high you may never sell much work and setting your prices too low will not help your reputation or bank balance.
Market Research
Conduct your own research into what other styles of work and subject matter are for sale, what prices are being charged for them and how they are being sold. This will help you to focus your marketing efforts on matching your work with the type of person or business who might buy them and in the right place where you can reach them - gallery, website, exhibition, specialist magazine or trade show. You need to decide whether you are targeting the exclusive or the volume end of the market.
Your Reputation
Art buyers expect to pay higher prices for work from well known names, so your reputation is an important factor in how high you can set your prices. Any self publishing artist, photographer or illustrator at the start of their career is never likely to gain any reputation without the benefit from exposure at high profile art exhibitions such as the Spring Fair Birmingham, the Affordable Art Fair, shows at galleries or regional "openhouse events" such as the Front Room Art Trail in Bristol. A visit to shows such as Spring Fair is useful too as it allows you to check out the competition and helps you to understand the market a little better.
Art Exhibitions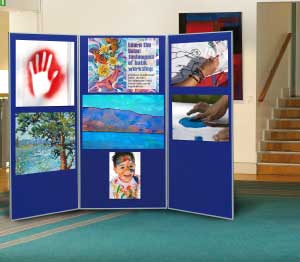 Art exhibitions and trade shows are a unique chance for potential customers, such as gallery owners in search of new talent, to see, hear, touch and experience your work first hand, for the same cost of a colour page ad in a trade journal. It is also a great way to guage reaction to your work and see what is likely to be a good seller. If you are considering exhibiting then it is always advisable to visit a show beforehand to see what is selling and whether it matches your expectations.
There exists no other way in which you can demonstrate your work to so many potential customers in such an effective environment, see our helpful guide to planning for an exhibition.
Limited Edition Prints
Only if you have got as far as selling some of your original work should you be thinking of going straight to limited editions. To develop sufficient demand for your work will need working at, starting out with fine art greeting cards and open editions first.
If you are ready to consider limited editions then you can generally expect to charge more if you offer your work as a signed and numbered limited edition print, as this makes your image more exclusive in the minds of prospective buyers. Buyers are generally prepared to pay more for a print that is published in a small edition, they appreciate the rarity value of limited editions as much as ever. There is some confusion on what you can and can't do with a limited edition, find out the answer to some common questions on limited edition prints.
Remember that a limited edition giclee print run does not have to be printed all in one go; you are not committed to the high quantities or costs of traditional printing methods like offset litho. You can cut down your costs by only printing what you sell and you benefit from not having unsold prints that have cost you money to produce and may never sell at all.
Print Quality

It does not do justice to your work if you skim corners by not using a high quality digital file of your artwork or choosing to print on inferior media that begins to fade or discolour after only a short period of time. Fine Art Trade Guild approved printers, such as Redcliffe Imaging, have the right to apply the Guild logo to all fine art prints they produce. This is an immensely powerful marketing tool when it comes to selling your work as it gives the buyer confidence, this can also be backed up with your signature as it endorses the visible print quality.
The Fine Art Trade Guild print standard requires paper to be at least 250gsm, with an acidity level of between pH7 and pH10, to minimise discolouring. Colours should be relatively lightfast, scoring 6 or more on the Blue Wool Scale, the industry-standard measurement in the UK, or its equivalent. Reproductions should be close facsimiles of the original work and printing should be clear with a good depth of colour.
Galleries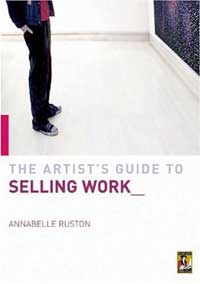 Galleries excel at offering uniquely stylish artwork as one of the main reasons people go to galleries is to find something original that they will not find in someone elses house. If you have got as far as selling some of your original work and you are now looking to sell digital prints of your work then galleries are well worth approaching as they have always bought from artists to satisfy the demand for original work. Of course, not every gallery will consider your work and you need to be prepared for some disappointments.
A good quality mailshot to galleries may get a response, as they often take prints from self publishing artists who approach them. Visiting your local galleries and talking to the gallery owner in person to gauge their reactions to your work will give you valuable feedback on how saleable your work is. Once your work appears in one gallery, you can expect to get a response from other galleries as your reputation increases.
The Artist's Guide to Selling Work - covers important points that any artist should know when trying to sell work, like selecting the right gallery, approaching galleries, pricing, terms and conditions, other options, artists' agents, working with publishers and public art commissioners.
A website could work wonders for your selling your artwork
More than two-thirds of the UK population are online, make sure you get your work in front of new customers with a good website. Not only does it showcase your work so effectively, it reassures visitors to your website that you are professional and makes it easy for them to order prints or contact you.

isendyouthis is an online art gallery that allows you to post images cataloguing your work and your exhibitions and keep track of every artwork, including limited editions. It shows you where other artists are exhibiting, which art gallery they're represented by and where the public can visit these galleries or open studios.
For more information or advice on selling and marketing your work call Adrian or Tim on (0117) 952 0105 or use the contact form to tell us your requirements, we can suggest the most appropriate solution for your display needs.
Services

Information

Other Services

VeriSign® Secured Payment Facility