Custom Printed Wallpaper
Custom Wallpaper Printing For Home, Office And Retail Interiors
Bring an entire empty wall to life with custom printed wallpaper. Just pick a wall, create your own design from scratch (or choose an image or illustration from an image library), and easily install it when your wallpaper order arrives. Custom wallpaper printing allows you to choose your own photos, images or designs for home, office and retail interiors.
Try our free, Easy-To-Use Wallpaper Design Tool and start creating your custom wall decoration. Ideal for all residential, retail, or commercial spaces. Get the job started by using your own personal photos or by searching a library of high-quality images, designs and artwork from market-leading partner, Bigstock Photo.
Choose or Upload


Choose an image from a photo library or upload your own image.

Customise


Enter your wall dimensions and resize or move your image to suit your layout.

Confirm and Order


When you are happy with the layout you can confirm and place your order.
Choose From These Leading Wallpaper Brands:
We can print your design or image onto several custom wallpapers, choose from these three leading brands:

Phototex Self Adhesive Printable Wall Fabric - an easy to apply self-adhesive wallpaper that is re-movable, re-useable and re-positionable.

Hewlett Packard Ultra Smooth Wallpaper - this easy-to-install wallpaper is pre-pasted, so just wet the backing and apply to the wall. It's a flame retardant, strippable, pre-pasted wall paper with an ultra-smooth finish.

Digimura Smooth Wallpaper - a paste-the-wall not the wallcovering product that is clean and simple to install and won't damage surfaces when it is removed.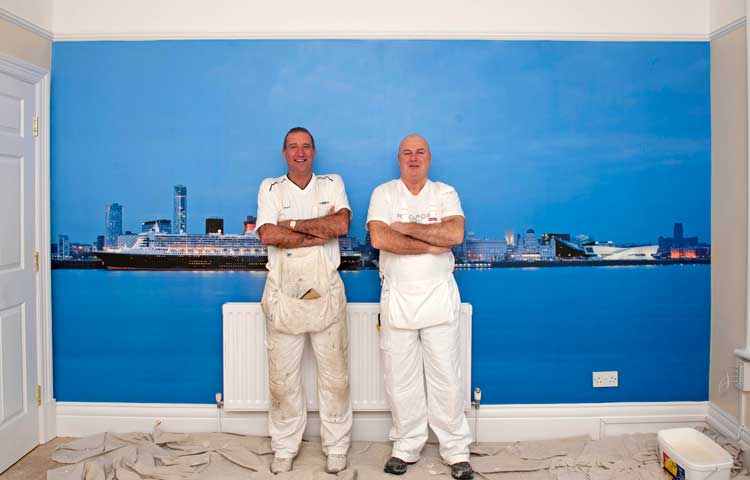 Sourcing Images or Illustrations for your Wallpaper
The following image libraries are recommended as they provide quality imagery, often with high resolution for large wall graphics. Images can be purchased direct from these libraries and it is advisable to obtain the highest possible quality image to ensure the best possible print quality.

Shutterstock are our preferred image library suppliers. By clicking here you will be able to browse Shutterstock's site and choose from over 11 million images. But before you buy tell us which image you like and we can make the purchase for you.
General Photography,
Illustration and Graphics:

Panoramic Speciality sites:

image courtesy Ed Collacott
For more information or advice on these products call:
| | | |
| --- | --- | --- |
| Louise Bradforth | louise.bradforth@redcliffe.co.uk | 0117 952 6065 |
| Joanne Burr | jo@redcliffe.co.uk | 0117 952 6067 |
| Enquiries Form | | |
At Redcliffe Imaging we're happy to answer any questions you may have about digitally printed wallcoverings and getting the very best result from your image or design.