Displays for Estate Agents
Professional & Powerful Displays Can Really Increase Sales
Increasing Your Sales - Look around you and you will see that successful and busy estate agencies all employ dynamic and attractive displays.

Download our professional and powerful Displays for Estate Agents and discover how you can really increase sales. In fact, research has shown that professional displays can increase sales by 54% and when lighting and movement is added, there can be a dramatic increase to over 100% (source: www.entrepreneur.com).
This page has been designed to help you achieve dramatic results. Our displays, together with unparalleled experience, will maximise your success.
"Displays with lighting or movement have been shown to increase sales by an incredible 107%" www.entrepreneur.com
Lighting And Movement - Choose from digital displays, rotating displays, illuminated graphics, signs and lighting. All our display equipment has been purpose designed to attract attention.
Enhancing Your Image - By using signs, posters, light boxes and graphic displays, you can project a positive, original and stylish image that will remain in the forefront of your client's mind.
Peace Of Mind - All display items shown in this brochure are fully guaranteed. If we also carry out the installation for you, we cover that too. You can therefore be sure our quality standards will match your projected image from star t to finish, giving you security and peace of mind.
Making The Right Choice - All property details can be changed in 60 seconds or less - now that's fast. All of our displays are also available as easy-to-order kits, which means that choosing the right system for you couldn't be more simple and straight forward. You are the property experts. We are the display experts. Let us help you choose displays that will sell a lot of properties. We really can say - our displays are simply the best!
Window Displays

Hundreds of people walk or drive past your premises every single day. Your window display can be an essential tool in building your sales. Just imagine the effect on your sales results if your new window displays lead to one or more extra property sales every week.

High impact window graphics are a cost effective way to create new business and advertising opportunities. Marketing professionals have long recognised the value of window graphics and the way it can so effectively catch the eye.
Backlit Displays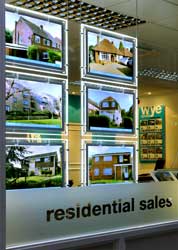 Light Pocket is an eye catching way to illuminate your posters and graphics that adds sparkle and interest drawing attention to your promotional messages.
Position in the window or interior of your premises. Make stunning window displays or use the double sided units to create partitions within your premises.
Digital signage displays are the latest dynamic way to get your message across in a simple and effective way. They are so easy to run and quick to update, that it's little wonder that digital displays are becoming the standard for many estate agents. Add digital screens as part of your display and just watch how movement catches the attention of passers-by.
Interior Displays

Make sure your walls are working hard for you by using wall space in a constructive and creative manner.

The key is to develop a welcoming environment that enhances your brand image and displays your proper ties in the best possible way.

Colours and themes carried through your signage and display systems can be co-ordinated to great effect. In the next two pages you will see a small sample of the many ways that walls can be productive for you.
Posters And Pockets
Wall mounted suspended poster displays can be used throughout the interior of an office or as promotional signage in retail outlets. Easy-access pockets are available in a range of sizes to suit your needs. Property details can be displayed and changed in seconds without the use of any tools. Our pockets enable you to continue the window display theme on to the interior of your premises.
Suspended Displays
Our easy-access suspended poster holders are flexible and extremely cost-effective, making them ideal for all budgets. All pockets are double-sided and allow property details to be changed in seconds. Hook-on pockets are the ideal solution if you need to remove the pocket to show the property details to a client. Pockets are available in a large range of standard sizes, with specials available on request.
Hook-On
For an easily updateable and adaptable display, hook-on pockets could be the answer for you. This system provides a modern, yet highly flexible and easy-to-use display solution. Window poster displays that are suspended from the top. A floating option that allows information to be changed easily, they can be fitted to the ceiling or wall and are ideal for really awkward windows.
Freestanding Displays
The majority of our displays can also be fitted within freestanding units. These allow the display to be easily moved and minimise installation costs. Freestanding units provide a quick and easy solution either in your window or inside your office.
Freestyle units consist of satin silver aluminium frames fitted with cables or rods to support a variety of acrylic easy-access pockets, panels, dispensers, light boxes, digital screens and much more.
The frames are available in a variety of heights and widths and can also include integral lighting. The units are modular, which allows them to be joined together to form runs, making them an incredibly versatile display system.
High Impact, Low Level Property Presentations
Benefit from high impact, low level property presentations with these stunning low level units.
Illuminated from above with LED Spotlights
Fully illuminated LED backlit Light Pockets that bring your property details to life
A highly economical non-illuminated version
The low-level display less than one metre high allows clear vision into the interior. The easy to change property details are located on an stunning high gloss acrylic panel and the premium design incorporates the latest materials and finishes at a very competitive price.
Infoposts
An extremely adaptable way of creating great displays quickly and easily. Consisting quite simply of an upright and a weighted base they can be used to support easy-access pockets, leaflet dispensers and even digital screens. A new innovative and patented Pole Display System enables any 2mm thick rigid sheet material to grip into a 'pole' without the need for fixings or brackets.
10mm Rod Kits
10mm thick rods fitted to a weighted base provide the perfect support for easy-access pockets. The display is double-sided and can be easily moved as required, creating an economical and simple display solution. Choose from freestanding and wall mounted poster display units to suit any display requirement.
Digital Displays

Digital signage displays are the latest dynamic way to get your message across in a simple and effective way. They are so easy to run and quick to update, that it's little wonder that digital displays are becoming the standard for many estate agents. Add digital screens as part of your display and just watch how movement catches the attention of passers-by.
It couldn't be easier to display images, video or include sound if required. The video, image and sound files are stored on compact flash (CF) cards, which are simply inserted into the back of the unit. They then immediately start playing in a continuous loop. Rod-suspended screens are available in 17" and 27" versions. These can also be fitted to Infoposts, ceiling-hung or wall-mounted.
Lighting
A great way of getting extra attention to your property details or signage; low-voltage lighting designed to get your displays noticed and attract more potential customers. Choose from suspended cable and rod lighting, Highlight, track lighting or Paralight.
For more information or advice on these products call:
or use the quote form to tell us your requirements, we can suggest the most appropriate solution for your display needs.
Join the Redcliffe Imaging mailing list - be one of the first to know about money saving special offers and brand new display products that will help get your company noticed.

Services

Information

Other Services

VeriSign® Secured Payment Facility