Floor Graphics
Indoor Floor Graphics - Slip Resistance Means It Can Be Used In All Public Places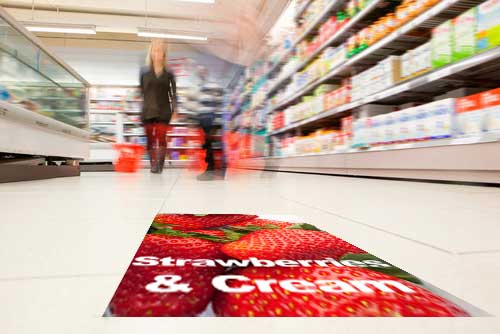 Durable, full colour floor graphics are the ideal way to get your customers attention. Indoor floor graphics are the perfect material for retail display, aisle markers, exhibition halls, promotional events, museums and airports.
With a new slip resistant laminate over a removable self-adhesive vinyl means all your floor graphics are waterproof and fade resistant.
When applied to a smooth, clean floor the material will last up to 6 months (depending upon foot traffic).
Outdoor Floor Graphics - for Pavement and Tarmac
StreetRap - Outdoor Floor Graphics for Concrete - The ideal solution for high impact outdoor applications. Cost effective short term outdoor concrete floor graphics that bonds well to flat or slightly rough surfaces like concrete, tarmac and pavements.
For more information or advice on these products call Adrian Chambers or Tim Sale on 0117 952 0105 or use the contact form to tell us your requirements, we can suggest the most appropriate solution for your display needs.
Join the Redcliffe Imaging mailing list - be one of the first to know about money saving special offers and brand new display products that will help get your company noticed.

Services

Information

Other Services

VeriSign® Secured Payment Facility