Hairdresser and Beauty Salon Window Displays
Powerful Window Displays Can Effect The Number Of People Who Walk Through The Door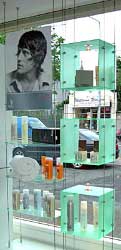 Today's hairdresser and beauty salon provides far more than just an excellent service. A major part of the business profit can come from the selling of merchandise and up selling on existing services. Hairdresser displays start from under a £100 for a simple poster display or glass shelving display a small investment like this could pay dividends.
Stylish acrylic cubes combined with glass shelving and a large acrylic poster holder create an attention grabbing product display. Suspended on stainless steel rods.
Powerful window displays can actually have a marked effect on the number of people who walk through the door. There are many things you can do to boost traffic through your door, consider adding movement and additional lighting.

Download our professional and powerful Displays for Hairdressers and discover how you can really increase sales. In fact, research has shown that professional displays can increase your sales by 54% and when lighting and movement is added, there can be a dramatic increase to over 100% (source: www.entrepreneur.com).
Hairdresser Poster Displays
The window display should have an appealing image in the window, but it is the way that it is presented is the key to the success. A poster stuck to the window can look very untidy very quickly.
What looks really stunning is a poster display that is well illuminated this can be simply achieved by using a light just above the poster or insert the poster into a light box. Research has shown that just by adding lighting sales can actually increase by 107%.
Another way to increase traffic into your premises is to use movement. This has proved highly successful for example men's salon who used the emotion rotating display unit with a mixture of posters and shelving. The salon display gave an immediate increase of 10% of new customers coming through the door.
Suspended Shelving and Posters
Acrylic poster holders combined with glass shelving suspended on galvanised steel cables create a stylish double-sided window display. Cousins Hair Design owner Rose-marie Balloqui describes her window display as "eye catching and accessible".
Hairdresser Glass Shelving Displays
Suspended glass shelving is ideal for use in the window as it does not block out the light. The shelves can be positioned at any height and poster displays can be integrated into the display. Remember glass never grows old, once cleaned it will look like new even after many years of use. The benefit of using a suspended cable display or a suspended rod display it that it allows you to add posters and even low-voltage lighting within the window display thus greatly increasing the impact day or night of your window display.
The design of the window display can then be continued within the interior of the salon in the form of wall mounted cable or rod glass shelving systems. Shelving displays can be used between workstations to encourage up selling and impulse sales. It is always easier to sell something if the client can see it while the stylist is working.
Hairdresser Acrylic Cube Displays
Create a strong impact in your window display with stylish acrylic cubes, and increase product sales in your salon. Suspended on tensioned cables, with low-voltage lighting powered via the cables.
Add a magical sparkle to your salon that will really make you stand out from the crowd. Floating acrylic cubes, is an excellent way to present merchandise of small products, this gives the salon the opportunity to sell product and costume jewellery in a secure attractive fashion.
Suspended cubes can be positioned in the window or in the interior of the hair and beauty salon.
Display Equipment Installation Service
All equipment is supplied with easy to follow installation instructions. Alternatively take advantage of the national installation. All work is carried out by trained fitters and is covered by a 12 months full guarantee.
High Quality Printing For All Your Business And Marketing Needs
For more information or advice on these products contact:
| | | |
| --- | --- | --- |
| Louise Bradforth | louise.bradforth@redcliffe.co.uk | 0117 952 6065 |
| Joanne Burr | jo@redcliffe.co.uk | 0117 952 6067 |
| | | |
Tell us your requirements, we can suggest the most appropriate solution for your display needs.
Services

Information

Other Services

GeoTrust® Secured