Twist Easilink Banner Stands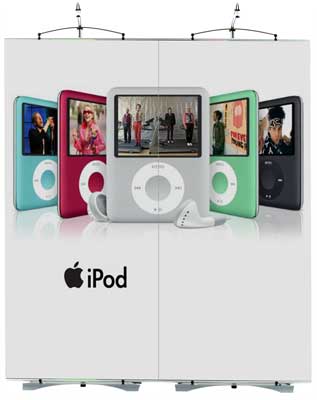 The Twist Easilink System allows you to link together two 800mm wide Original Twist Banners to create a seamless 1600mm wide image or back wall with the added benefit of being able to use either of the two banner on its own when the need arises; ideal for departmental functions, window displays and conferences.
The patented tensioning system allows the graphic to self level on uneven floors.
The Original Twist banners have an integrated light cap that finishes off this product superbly. The light and socket have been designed to fit the Twist system - simply push into the holes and plug in your transformer, it couldn't be easier. It allows you to downlight your graphics with ease and without the lights looking like an after thought.
Twist Easilink - Linkable Banner Stands
Creating a true seamless join with banners has, until now, been almost impossible; the edge to edge magnets used by many systems simply do not work well. Linking the Twist banner with our Easilink Kit allows you to create a seamless image or back wall with the added benefit of being able to use the banner on its own when the need arises.
Simple ideas are usually the best, and our Easilink Kit shows this to great effect, comprising of just two metal pins and three floating magnetic bars. Simply slide the linking pins into the top and bottom finishing strips of one banner, then join together the next banner. Very simple and effective, this process can be duplicated to join as many banners as required and due to the added factor of linking pins and the Twist banners patented tensioning system, it can be used on uneven surfaces.
Original Twist Banner
Quick and easy to erect, the Original Twist banner takes approximately 90 seconds to set up with graphic and lights. To ensure the stability of the Twist banner, the base is made from 3mm stainless steel, which is then powder coat in silver as standard.
1600mm wide single sided graphic display
Patented tensioning system, ensuring a taut and straight graphic each time.
Extension arm available allowing you to add elements such as monitor or leaflets
Includes integrated low voltage lights and mains transformer
Comes complete with hardware carry bag and graphic carry bag
Lifetime Guarantee - Manufactured in UK
Hardware Dimensions (mm): 2130 (h) x 1600(w) x 300 (d).
Visible Graphic Dimensions (mm): 2000 (h) x 1600(w)
Weight: 15kg approx.
Twist Accessories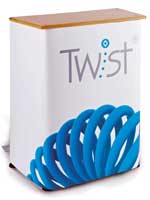 Twist Counter
Twist Hardcase

Literature Rack
Twist Counter
Made to specifically adapt to the base of the Original and Media Twist banner stands, the Twist counter sits in front of the banner graphic acting as a platform to display product, place a keyboard, or simply house literature.
Set Up Instructions
Twist Hardcase
Twist Hardcase is a hard, rubust, transportation case giving added protection and usability to your Twist banners; ideally suited for the 3 panel Flexilink system. Moreover, with the case to counter conversion kit, you have the perfect setup for a simple display with podium.
Set Up Instructions
Twist Literature Rack
Width: 310mm
Depth: 400mm
Height: 1090mm
Weight: 7.4kg empty
Hardware and shoulder bag.
I wanted to thank you on a great job on the banners. They look brilliant, everyone in the office is really pleased with them - iPledge Group.
Aligning Twist Graphics
Dismantling Hardware