Twist Flexilink Banner Stands
The Twist Flexilink Banner Stand System has been designed to allow the user to create and recreate virtually any shape required.
Using the EasiLink kit to join two or more Original and/or MediaTwist banners, the Flexilink is a 550mm wide graphic panel that sits between two Twist banners, allowing you to form a controlled curve to an angle you require with the ultimate ease; this system makes the Twist banners the most flexible, portable modular system in the world.
An unlimited amount of Original Twist Banners can be linked with the Flexi-Link system, allowing you to create backdrops and displays with a seamless graphic appearance.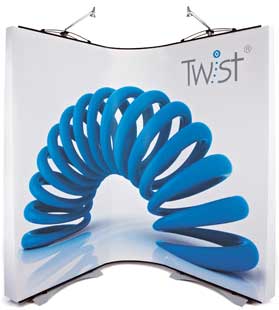 The self leveling system incorporated through the patented tensioning system allows the Original Twist banners, joined by the Flexilink, to be used on uneven floors, negating the need for unsightly chocks and tape often found when using other systems.
Twist Flexilink Banner Stand
Quick and easy to erect, each Original Twist banner takes approximately 90 seconds to set up with graphic and lights. To ensure the stability of the Twist banner, the base is made from 3mm stainless steel, which is then powder coat in silver as standard.
Single sided graphic display
Patented tensioning system, ensuring a taut and straight graphic each time.
Includes integrated low voltage light and mains transformer
Comes complete with hardware carry bag and graphic carry bag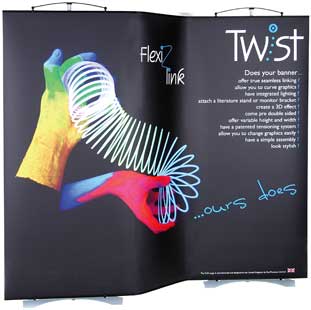 Option 1 = 2 x 800mm Twist Banner Stands with 550mm Flexilink graphic panel = 2150mm width
Option 1 = 2 x 1000mm Twist Banner Stands with 550mm Flexilink graphic panel = 2550mm width
Hardware Dimensions (mm): 2130 (h) x 2150 or 2550(w) x 300 (d).
Visible Graphic Dimensions (mm): 2000 (h) x 2150 or 2550 (w)
Weight: 12kg hardware only, hardware with case 25kg approx.
Twist Accessories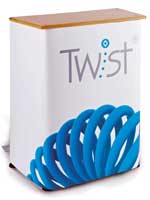 Twist Counter
Twist Hardcase

Literature Rack
Twist Counter
Made to specifically adapt to the base of the Original and Media Twist banner stands, the Twist counter sits in front of the banner graphic acting as a platform to display product, place a keyboard, or simply house literature.
Set Up Instructions
Twist Hardcase
Twist Hardcase is a hard, rubust, transportation case giving added protection and usability to your Twist banners; ideally suited for the 3 panel Flexilink system. Moreover, with the case to counter conversion kit, you have the perfect setup for a simple display with podium.
Set Up Instructions
Twist Literature Rack
Width: 310mm
Depth: 400mm
Height: 1090mm
Weight: 7.4kg empty
Hardware and shoulder bag.
Two stands received just now, very pleased with them, eye-catching but light and portable, looking forward to evaluating them at the exhibition next week - Best Training
Aligning Twist Graphics
Dismantling Hardware