Twist Banner Stands
Finally a banner stand that offers you more. With the Original Twist Banner, both form and function have been specifically considered to bring you flexibility, ease of use, stability and an aesthetically pleasing system that will enhance any display.
The patented tensioning system serves as a great aid to ensure that your graphic will hang straight every time. The finishing strips of the graphic have two plastic clips which simply slide into place, holding your graphic central over the base.
The Original Twist banner has an integrated light cap that finishes off this product superbly. The cap is made so either one or two lights can be used together, allowing you to downlight your graphics front and rear, with ease and without the lights looking like an after thought. The light and socket have been designed to fit the Twist system - simply push into the holes and plug in your transformer, it couldn't be easier.
The Most Flexible, Modular Portable Exhibition Systems in the World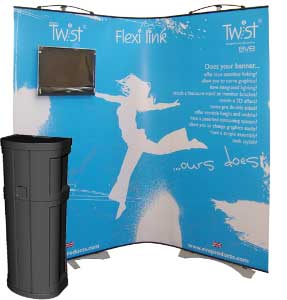 The Twist Media Banner provides the ability to include a monitor within your banner stand display. With multimedia more accessible to both business and personal users, the Twist Media has been made to allow the use of moving image and sound within a traditional banner stand.
The stability of the Twist banner range lends itself to added features such as extension arms for holding a monitor or leaflet dispenser.
Linking two or more Twist banners with the Easilink Kit allows you to create a seamless image or back wall with the added benefit of being able to use the banner on its own when the need arises; ideal for departmental functions, window displays and conferences.
The Twist Flexilink Banner Stand System has been designed to allow the user to create and recreate virtually any shape required. An unlimited amount of Original Twist Banners can be linked with the Flexilink system, allowing you to create backdrops and displays with a seamless graphic appearance.
Two stands received just now, very pleased with them, eye-catching but light and portable, looking forward to evaluating them at the exhibition next week - Best Training