Flying Banners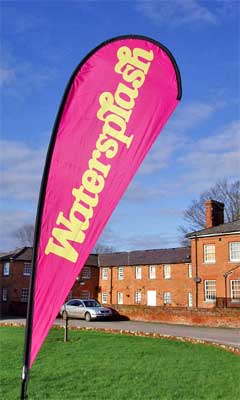 The innovative design of the Flying Banner with its unique shape ensures that they cut through wind and rain and remain standing, ensuring that your image is always visible for your target market to see.
Flying Banners are quick to set up. The neat carry bag is compact and protects the product for years to come. Flying Banners are great for in-store, indoor and outdoor use and are manufactured in various sizes to meet all demands. Stand tall at your next event with the Flying Banner.
Displayed in seconds - Flying Banners can be assembled in seconds. The patented system allows a rapid single person set-up. When your event is complete, the displays fold away quickly and simply and are stored in their own bags.
Weatherproof - Flying Banner displays are weather proof and extremely forgiving in all wind conditions. They are made of top quality polyester which ensures that images remain bold no matter what the weather.
Excellent stability - Our unique product designs make tool use redundant. All products are self supporting and easily secured for all weather conditions.
Easy to transport - Flying Banner displays are delivered in hardwearing hand portable carry bags. This makes for easy storage and quick delivery to the next event.
All complete with full colour fitted banner graphic from artwork supplied. Production time - 15 working days from receipt of print ready artwork. Shipping cost dependent on quantity ordered.