Portable Outdoor Display Banners
Flying Banners, Flags And Banner Frames For Your Outdoor Event
Our portable, durable, quick to assemble range of banners can be used for advertising displays at exhibitions, trade show displays, seminars, sporting events, product launches, in hotel lobbies, reception areas, retail displays, point of sale and more.
Low Cost Flag Banners
Flexible, low cost flag system designed to give you a choice of pole sizes from 2.8m to 5.6m that can accommodate three different flag shapes. Perfect for outdoor situations such as sporting events, country shows and trade fairs as well as indoor purposes including exhibitions, retail promotions and showrooms.
MORE - Low Cost Flag Banners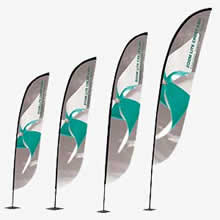 PVC Vinyl Banners - Versatile Outdoor Advertising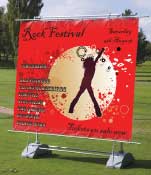 Horizon Outdoor Banner System
Ideal promotional solution for outdoor events, advertisements, exhibitions and public areas. Several units can be linked together as a seamless wall to make an even bigger impact.
From £439.00
More Info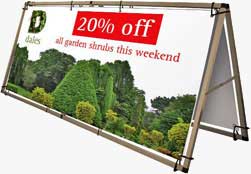 Monsoon Outdoor PVC Banner Holder
Simple to use, robust and effective portable banner frame kits that are lightweight and easy to use. Made from lightweight aluminium that is ideal for use with PVC eyelet banners.
From £199.00
More Info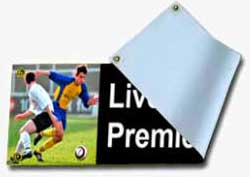 PVC Vinyl Banners
are an ideal way for any business or organisation to promote an event or special promotion. Since vinyl banner material is very flexible as well as portable, you can see vinyl banners just about anywhere.
More Info
Fabulous thanks! We've just assembled them and they are excellent - thank you!! - The United Nations Children's Fund (UNICEF)
Weather Resistant, Easy to Use and Robust Outdoor Banner Systems
Redcliffe's easy to use outdoor banner stands are designed to thrive in the wind and rain. All our outdoor banner stands are easy to use and easily transportable making tham ideal for use in any outdoor corporate or retail environment. Our premium quality banner material is resistant to fading for up to three years outdoors and greater than five years indoors and updating the graphics is very straightforward.
An indoor banner stand by contrast risks being destroyed by inclement weather...and without the stability of a weighted base, the first gust of wind will topple the stand. Outdoor banner stands are built for durability and strength and are ideal for indoor or outdoor promotions. The moulded base can be filled with either water or sand, making it especially suitable for high traffic areas indoors or poor weather conditions outdoors.
Outdoor Display Brochure - outdoor display products for all kinds of events.