Replacement Display Graphics
Redcliffe's replacement graphics are made using only the very best materials available to provide you with both value for money and long life.
---
Replacement Banner Stand Graphics
Prices start from £60.00 per drop for roller banner stands and include all fittings and standard or reverse polarity magnetic tape.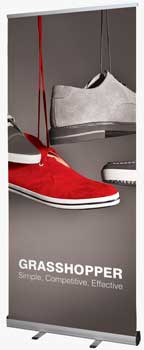 Banner stand graphics are printed on to a durable 185 micron opaque polyester film with a universal satin coating. This together with its grey, scuff resistant stop light backing is ideal for roll up banner stands. It has an instant dry coating which is robust enough not to require lamination and its thicker base film ensures that it hangs beautifully.
The result is a banner stand graphic that is guaranteed to present flat every time.
We can supply new replacement banner stand graphic panels for any manufacturer including: Abex, Axis, Marc Bric, Quickscreen, Eurolinc, Marler Haley, Clip Display, Matrix, Ultima Display, Nova, Eclipse, Star, Plex, Nimlok, Nomadic, Premier.
Our prices include all additional hardware and the fitting of the new graphic. You can change the graphic panel yourself on some banner stand systems, other types of banner stands have to be returned to Redcliffe for the graphic to be changed. Cassettes for Imagine, Discovery and QuickScreen 3 banner stand systems - £46.00 extra.
Thanks very much for your superb service in making the new panels for our Nomadic Display...you did it extremely efficiently and speedily. The stands arrived back safely this morning - all in plenty of time for our recruitment fair - Baker Atlas Eastern Hemishere
Replacement Graphic Panels for Pop Up Stands
Prices start from £79.00 per drop for midi-system pop ups and include all fittings and standard or reverse polarity magnetic tape.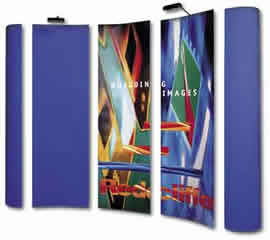 Now you can easily refresh and update the content of your exhibition display with new replacement exhibition graphic panels for your Pop Up Stands.
Redcliffe are the leading provider of full colour digital graphics to fit all exhibition systems and display kits.
Our in-house finishing facilities can mount your exhibition graphics to a wide choice of backing material - foamex board, flexible PVC Stoplight for pop-up systems and banner stands.
We can supply replacement pop up graphics for all of the following makes of display stands:
Clip | Display | Eclipse/ Apex | Link | Marler Haley | Matrix | Maxibit | Nimlok | Nomadic
Nova Xpress/ Quick | Plex Classic/ Elite | Premier/ Scan | Jet/ Sky | Smart | Star | Ultima Evolution
Pop Up graphics are mounted on to heavyweight "Stoplight" PVC with aluminium lining for extra longevity and laminated with a frost, scuff proof coating for additional protection.