Exhibition and Display Services for Registered Charities
Trade Discount For All Registered Charities In The UK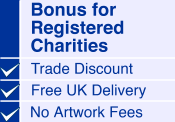 We are keen to support all registered charities in the UK by offering a trade discount on all our exhibition stands and poster printing services.
We hope that this will enable many charities to get the best value from their budgets and assist them in promoting their services.
Free UK Delivery
Plus we offer free UK delivery on all orders from registered charities, mimimum order value £50.00
No Artwork Fees
In addition, we can offer assistance with preparing artwork for large format graphics on banner stands and pop up stands. There will be no artwork fees where usable elements such as logos and images can be supplied.
Please note that image files should be high resolution and that web images and other low resolution image files are unsuitable for large format graphics. There is no charge for the first hour of artwork setup, which covers most jobs. After the first hour we charge £15 per 15 minutes for preparing your artwork.
If you require a quote, samples or more information on any of our exhibition and display products, please complete the following and we will contact you shortly.