Folding Display System Hire
Folding Display System Hire - All The Benefits, At A Fraction Of The Cost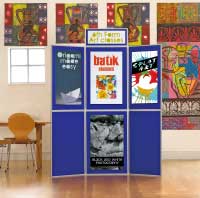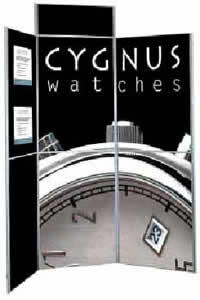 These highly portable, lightweight and versatile folding display systems are made with tough and durable PVC frames.
This folding display board system features lightweight panels with a recessed panel face on one side that allows graphics up to 3mm thick to be fixed flush with the extruded frame.
The panels are finished with Velcro® receptive, loop nylon fabric, simply unfold the panels and your display kit is ready to use in seconds.
Folding Display System Hire
up to 5 day hire
Desk Top Kit
Please call for price
Panel size 900mm x 600mm
6 Panel Folding Kit
Please call for price
Panel size 900mm x 600mm
7 Panel Folding Kit
Please call for price
Panel size 900mm x 600mm
8 Panel Folding Kit
Please call for price
Panel size 1000mm x 700mm
2 - 50w Low Voltage Spot Lights
Please call for price

Velcro friendly folding display panels, simply unfold the kit and set it up in seconds. Allow an additional £20 for a 25 metre roll of hook Velcro – strictly no blue tac or pins to be used on the panels!
Allow for collection and delivery charges to and from the venue, prices start from £35.00
Need vibrant graphic panels for your folding kit? If you need graphics in a rush then our printing service will ensure you get your message across on time - perfect for events and conferences.
Hire Terms and Conditions
Deliveries and collections of hire equipment are made between 8.30am and 5.30pm Monday to Friday, excluding public holidays.
All hire periods include collection days, return days and weekends, e.g. for a 2 day event on a Tuesday and Wednesday, the equipment will be delivered on the Monday and collected on the Thursday - this will count as a 4 day hire period.
A delivery and collection charge based on the equipment weight will be charged in addition to the equipment hire charge - delivery and collection charges start from £35 + VAT.
Hired equipment will remain the property of Redcliffe Imaging Ltd at all times. The hirer is responsible for the safe keeping and maintenance of the equipment in good condition whilst in their possession. In the event of any equipment requiring repair as a result of the hirer's negligence, misuse or abuse that cannot be carried out by our own in-house team, then the hirer shall bear the cost of any such repair.
In the event that the goods are damaged beyond economical repair, or are lost, the hirer shall bear the full write off cost. The hirer shall report in writing to Redcliffe Imaging Ltd within 48 hours of the event, any damage to or loss of the equipment. We advise that you take out your own insurance to cover against damage or loss. Write off costs for each product are available upon request.
Acceptance of a quotation must be in writing. Once accepted, our quotation becomes a firm order and is thus subject to a cancellation fee as follows: Confirmed Orders Cancelled within 14 days of event 25% of hire charge, Confirmed Orders Cancelled within 7 days of event 50% of hire charge, Confirmed Orders Cancelled within 2 days of event 100% of hire charge.
Redcliffe Imaging Ltd accepts no responsibility for penalties incurred, loss of earnings, damages or any other perceived or actual loss due to late delivery of goods hired. Redcliffe Imaging Ltd reserves the right to substitute any goods for appropriate alternatives in the event that the actual goods quoted for are not available.
Redcliffe Imaging Ltd will endeavour wherever possible to ensure that pre-agreed delivery and collection times are adhered to. However, Redcliffe Imaging Ltd cannot accept responsibility for late deliveries or collections, due to any unforeseen circumstances.