Custom Printed OS Wallpaper Maps
Cover Your Wall With A Stunning Ordnance Survey Wallpaper Map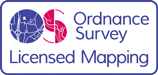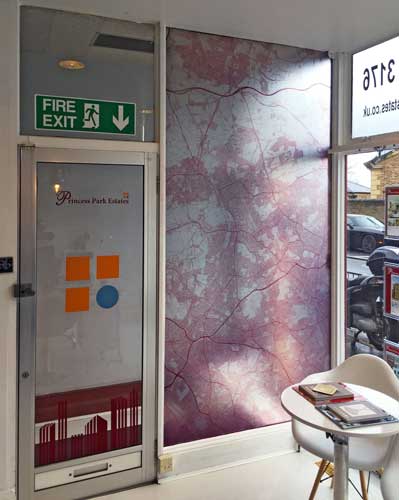 Create your own wallpaper map sourced from Ordnance Survey map data. Custom printed to your exact wall dimensions and in a range of colour styles. Make an eye catching feature of a wall at home or in the office. 
Your wallpaper map is printed on a PVC free and odour free wallpaper product made by Hewlett Packard. This flame retardant, strippable, wallpaper is pre-pasted, you simply activate the glue with water and install. It comes with an ultra-smooth finish that provides vivid colour, high-definition detail for close viewing making it ideal for wall murals and creative designs.
There's no need to handle separate glues or adhesives, and no glue waste to deal with. You get strong adhesion, yet with this strippable wallpaper, removal is easy and clean.
Received the wallpaper on Friday and it was up the same day, looks great and the quality is very good, many thanks - Gossypium Organic & Fair Trade Cotton
Wallpaper Technical Specifications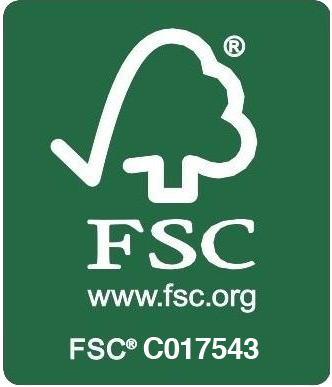 HP PVC-Free Wallpaper is an ultra-smooth finish, prepasted 165gsm wallcovering with an approved fire certificate. It meets commercial wallcovering standards and has an indoor display permanence of up to 20 years. Easy-to-install paper also tears off easily and comes with an HP warranty for clean removal.
FSC certified paper from well-managed forests
Paper contains 10% recycled content from post-consumer waste
Printed with HP Latex Inks, the prints produced are odourless and are GREENGUARD Children & Schools Certified
Meets AgBB criteria for health-related evaluation of VOC emissions of indoor building products
Mould and mildew resistant - GREENGUARD found HP PVC-free Wallpaper to be mould and mildew resistant using test method GGTM.P040 and following the guidelines of ASTM D 6329.
Indoor display permanence up to 20 years - display permanence rating for interior displays/away from direct sunlight, by HP Image Permanence Lab.
Flame resistant - Class A, B1, and EN 13501 approved fire certifications
Carries the CE mark - According to European Standard EN15102

Download Specification and Declaration of Performance for HP Ultra Smooth Wallpaper