Hewlett Packard Ultra Smooth Custom Printed Wallpaper
New PVC-Free and Odour Free Wallpaper with Your Design or Image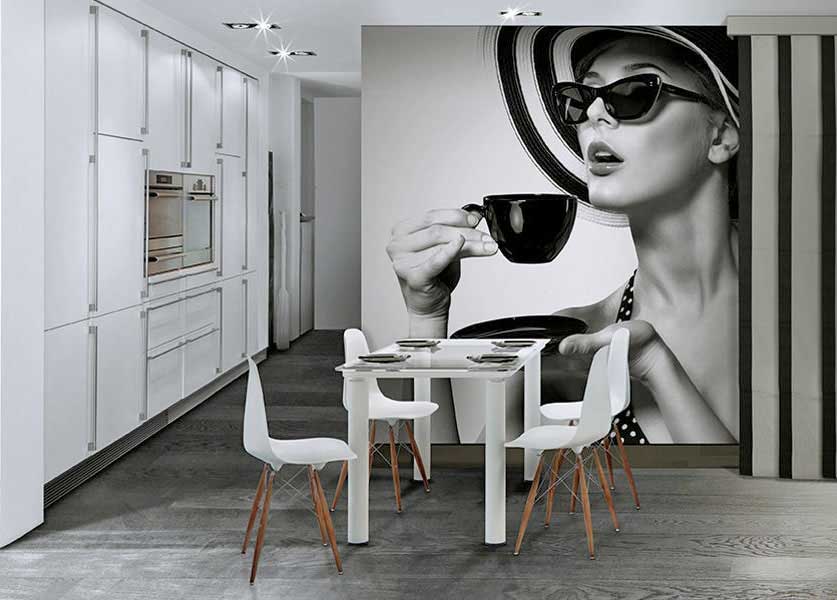 Hewlett Packard Ultra Smooth Wallpaper, a PVC free and odour free wallpaper product. It's a flame retardant, strippable, pre-pasted wallpaper with an ultra-smooth finish that provides vivid colour, high-definition detail for close viewing and an odour-free alternative to PVC for wall murals and creative designs. This easy-to-install wallpaper also tears off easily and comes with an HP warranty for clean removal.
CREATE YOUR OWN CUSTOM WALLPAPER
You can upload your image or design file and let us know about your mural plans. We will evaluate your file at the wall size you specified and get back in touch with more details and prices.
Upload your file (JPG, TIF, PDF, AI, PSD, EPS)
Complete enquiry form
Response within 24 hours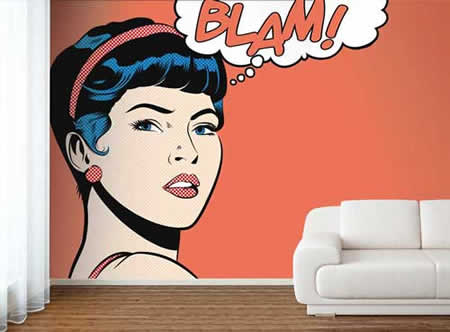 Thank you for getting the wallpaper through and out so fast - it's rare to get such great service, so thank you - TL Contracts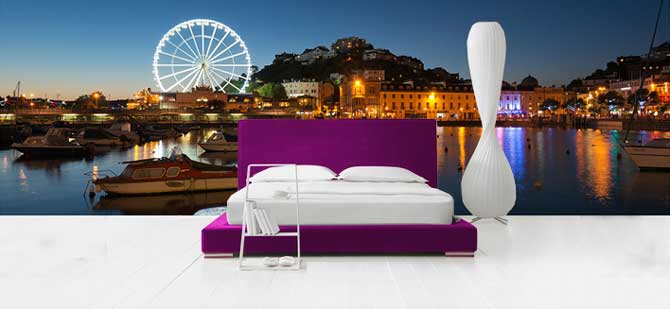 How to Apply HP Ultra Smooth Wallpaper
This wallpaper is pre-pasted, you simply activate the glue with water and install. There's no need to handle separate glues or adhesives, and no glue waste to deal with. You get strong adhesion, yet with this strippable wallpaper, removal is easy and clean. Plus the HP PVC free wallpaper printed with water-based HP Latex Inks meets the GREENGUARD Children & Schools standard for low-emitting products.
Easy-to-install wallpaper is pre-pasted, so just wet the backing and apply to the wall
Flame retardant - Class A approved fire certificate
Indoor display permanence of up to 20 years
Meets commercial wallcovering standards
Tears off easily and comes with an HP warranty for clean removal.

Read more on How To Apply Your Custom Printed Wallpaper
Wallpaper Technical Specifications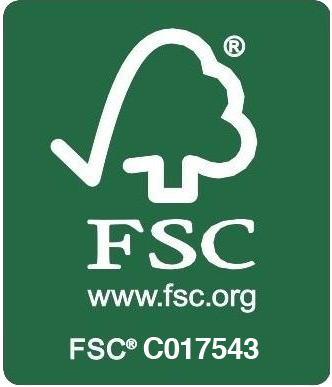 HP PVC-Free Wallpaper is an ultra-smooth finish, prepasted 165gsm wallcovering with an approved fire certificate. It meets commercial wallcovering standards and has an indoor display permanence of up to 20 years. Easy-to-install paper also tears off easily and comes with an HP warranty for clean removal.
FSC certified paper from well-managed forests
Paper contains 10% recycled content from post-consumer waste
Printed with HP Latex Inks, the prints produced are odourless and are GREENGUARD Children & Schools Certified
Meets AgBB criteria for health-related evaluation of VOC emissions of indoor building products
Mould and mildew resistant - GREENGUARD found HP PVC-free Wallpaper to be mould and mildew resistant using test method GGTM.P040 and following the guidelines of ASTM D 6329.
Indoor display permanence up to 20 years - display permanence rating for interior displays/away from direct sunlight, by HP Image Permanence Lab.
Flame resistant - Class A, B1, and EN 13501 approved fire certifications
Carries the CE mark - According to European Standard EN15102

Download Specification and Declaration of Performance for HP Ultra Smooth Wallpaper
HP PVC-free Wallpaper Used To Print High Quality Graphics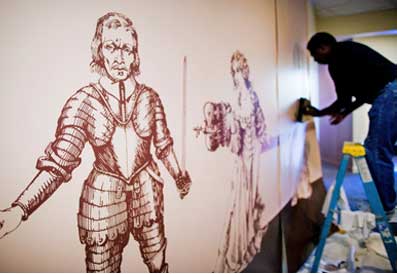 When The Old Globe Theatre received a grant to create an exhibit on its history, the organisation was thrilled. It immediately began creating a visual timeline featuring illustrations by costume designer Anna Oliver of iconic theatrical figures. There was just one challenge: the theatre needed to execute its ambitious vision - involving detailed graphics and a difficult installation and on a set budget.
HP PVC-free Wall Paper proved to be ideal to create high-quality prints that could be installed on the theatre's interior. According to the project designer Llance Bower, wallpaper was the only feasible solution. "I can't imagine a trickier application," says Bower. "We had to hit very specific marks on a curved wall with corners and beams." After the installation, Bower was impressed with the results: "The beautiful finish and vibrant color astonished me. Solid colours are difficult, but there's no striping or colour variation".
What's more, the theatre doesn't have to worry about potential damage to the work, which lines a busy hallway. If it's ever damaged, it can be easily peeled off and replaced. Plus the prints are odour-free, making them ideal for the high-traffic area.