Floor Graphics
Indoor Floor Graphics - Good For Both Carpets & Smooth Floors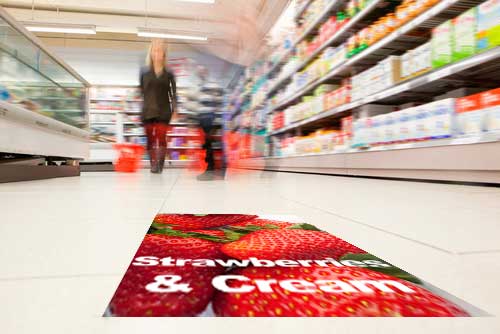 A textured indoor floor graphic that is suitable for all interior quality floor surfaces - including carpets, vinyl, ceramic or carpet tiles, wood or laminate flooring and smooth polished concrete.
It is for short term use as a floor graphic, one month is the maximum life in low traffic areas. Perfect for longer term wall graphics as it conforms well to brick, breezeblock, concrete or stone work in restaurants, play and retail applications.
Sticks on almost any surface, easy to apply and remove. Slip resistant - ASTM D-2047 and R12 certificated. B12 fire certificated
Outdoor Floor Graphics - for Pavement and Tarmac
StreetRap - Outdoor Floor Graphics for Concrete - The ideal solution for high impact outdoor applications. Cost effective short term outdoor concrete floor graphics that bonds well to flat or slightly rough surfaces like concrete, tarmac and pavements.