Short Term Floor Graphics
The Ultimate Short Term Floor Graphic - Easy to apply, reposition & remove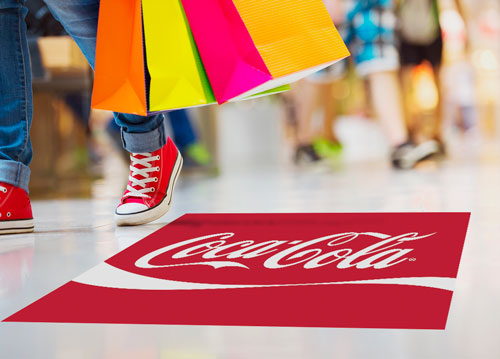 Good for both carpets and smooth floors
Redcliffe's textured, repositionable indoor floor graphic is suitable for all interior quality floor surfaces - including carpets, vinyl, ceramic or carpet tiles, wood or laminate flooring and smooth polished concrete.
It is for short term use as a floor graphic. Perfect for longer term wall graphics as it conforms well to brick, breezeblock, concrete or stone work in restaurants, play and retail applications.
Applications & Characteristics
Structured matte finish
Little to no adhesive residue
Sticks on almost any surface
Easy to apply and remove
Slip resistant - ASTM D-2047 and R12 certificated
B1 fire resistant certificated
Also suitable for semi-permanent application to unpainted walls and is ideal for textured surfaces such as brick, breezeblock, concrete or stone work, where it will conform to the texture of the wall (good for 3 to 24 months application)
Recommended conditions for use: 10°C to 30°C, 40% to 65% RH.
As a floor graphic - 1 month is the maximum life in low traffic areas.
As a wall graphic - good for 3 to 24 months.
Order Your Textured Indoor Floor Graphics
1
Please enter the exact Floor Graphic Size in mm and the quantity you require.
2
Press Order Graphic to continue on to our secure payment facility.
After entering your payment and delivery details you will then be able to upload your graphic file.

The GeoTrust® Secured Payment Facility will issue you with your Order Reference Number. Please make a note of your reference number and use it for any queries you may have with your print order. Your card will not be debited until your print order is ready to be despatched. Redcliffe Imaging is committed to protecting your privacy and maintaining the security of any personal information received from you.
Applying The Floor Graphic
Remember, the adhesive for any film graphic will only stick properly if the surface is clean and the film is applied correctly.

All floors have to be cleaned and degreased prior to application of your floor graphics.

Follow our comprehensive guide to installing, cleaning and removing indoor floor graphics.