Outdoor Floor Graphics for Concrete or Tarmac
StreetRap - Cost Effective, Short Term, Outdoor Concrete Floor Graphics
StreetRap is a floor graphic with an aggressive permanent adhesive that bonds well to smooth and slightly rough pedestrain surfaces like concrete, tarmac and pavements and has a 3 month outdoor life for pedestrian traffic.
The graphic is protected by StreetRap Protect, a protective laminate with a sandy structure that both enhances the print and helps with slip resistance. Appoved ASTM Friction Test D-2047-93 for slip resistance.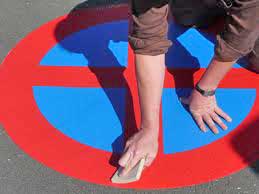 Outdoor durability up to 3 months
Almost anywhere you have pedestrian traffic, outdoor floor graphics can present your message to customers, clients, visitors and employees. Outdoor floor graphics deliver the perfect short term advertising and promotions vehicle for retailers, schools, public buildings, sports and other entertainment venues, and is ideal for outdoor events, grand openings and even plant safety messages.