Zeus Pop Up Transit Case
Manufactured from tough moulded polyethylene, this cost effective wheeled case is strong and durable and can accept one 3 x 5 curved or straight pop-up frame with graphic panels and magnetic bars. Supplied complete with a padded foam insert to protect the lighting and a removable divider to protect the graphics. The lid to the case acts as a counter top and can be locked (keys and locks not supplied).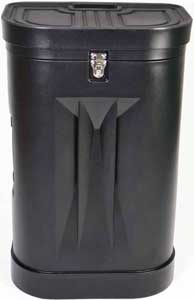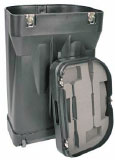 Lid with internal foam
insert for lighting storage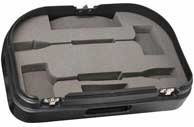 Lighting insert can
accept 2 halogen lights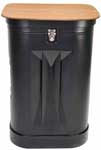 Oversize folding
table top for Zeus
Transform your Zeus case with a Table Top iPad Holder.
The table top is specifically designed to fit into the recessed area on the lid of the Zeus case, iPad is easily fitted into the housing unit and the table top is attached to the case with strong Velcro straps.
Price includes table top with housing fitted and supplied in box
Table tops available in white, black or silver thermoform
Will suit iPad 2, 3 and 4
Dimensions: 25mm (h) x 420mm (w) x 640mm (l)
NB: Black table top comes with Black iPad holder White table top comes with white iPad holder Silver table top comes with silver iPad holder.
Optional extras include an oversize folding beech laminate table top and full colour graphic wrap.