High Impact Estate Agency Property Displays
Sirius - LED Illuminated Freestanding Low Level Displays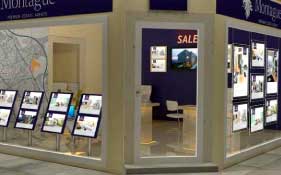 Stunning low level illuminated estate agency property displays using the latest LED technology.
The Sirius high impact, low level display, which is less than one metre high allows clear vision into the interior of your office.
These illuminated light panel estate agency displays are available in both A3 landscape or A4 portrait formats and are manufactured in the UK to a very high standard.
Our Apologies, This Product Is Currently Unavailable