Wall Mounted Glass Display Shelving Kits
The Quick And Easy Way To Order Glass Shelving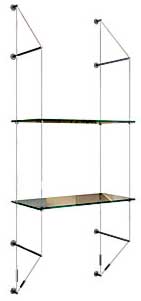 Wall mounted glass display shelves look great installed in traditional or modern buildings as the glass shelves blend into the environment. An added advantage of glass shelves is that they never grow old. Glass shelves will always clean up like new while wood or acrylic can easily get damaged.
All shelves are made from 6mm toughened safety glass display shelves with polished edges and come with shelf supports in satin chrome. The glass shelves are slotted which means they can be easily lifted off the display cleaning. The beauty of the suspended glass display shelves, is it don't matter if the floor or ceiling is uneven; they are just levelled on the vertical cables.
Wall mounted glass shelving kit comes with 3 metre long cables complete with wall to wall fixings. Position shelves at any height, use in the window or interior to create a stylish display. Increase the effectiveness by adding low-voltage lighting, acrylic poster pockets and leaflet dispensers.
The suspended glass display shelves make excellent displays in hairdressing salons, gift, shoe and handbag retailers, museums and showrooms of all sorts of manufacturers.

Installation Guidelines For Wall Mounted Glass Shelves
Wall mounted shelving kits come with 3m long cables complete with complete with wall to wall fixings, 2 x drilled and slotted glass shelves and 8 x CS01 shelf supports in satin chrome. Supplied with full assembly instructions plus free allen keys. Cable can be cut to length using wirecutters. Save time let us install - request a quotation.
A3 Shelf size: 391mm wide x 330mm deep
A2 Shelf size: 514mm wide x 330mm deep
A1 Shelf size: 688mm wide x 330mm deep
A1 Narrow Shelf size: 688mm wide x 180mm deep
Materials: 6mm thick toughened safety glass
3 Metre Cables: Galvanised steel
CS01 Shelf Supports: Brass with satin chrome finish