Redcliffe's Banksy Rat
The Night Box Rat - This box contains documents of no value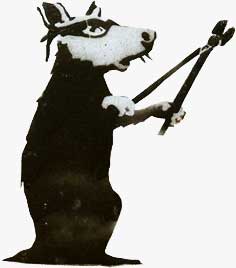 Redcliffe Imaging was first established in 1983 offering film processing to professional photographers in Bristol and the South West. For twelve years up until 2003 Redcliffe was based at 176-178 Easton Road, Bristol. As part of our service to professional photographers we provided what was known as the Night Box, a secure box locked with a heavy duty padlock from which photographers could collect their processed film after hours. It was on the outside of this Night Box that a mysterious rat appeared one day - Banksy's Night Box Rat.
Around this time it was known that Banksy lived in the Easton area of Bristol and it was not uncommon to spot some of his work around the area. A local football club, the Easton Cowboys, attracted none other than Banksy to sign up and not many football clubs can claim to have had an internationally renowned graffiti artist serve as goalkeeper. Will Simpson, who has been with the Cowboys since the beginning, said the street artist turned up to many sessions in the 1990s, before he rose to fame. "He went on tour with us to Mexico in 2001 and painted a number of murals in the community," he said.
By 2001 Banksy had had great success with his first handy pocket size book "Banging Your Head Against a Brick Wall". Banksy's second book "Existencilism" carried photographs of his work from Barcelona, London and San Francisco. The article below was written by Emma Warren and coincided with the release of "Existencilism", it first appeared in The Observer in 2002. The accompanying photo in the article is by Steve Lazarides and shows Banky in front of his work outside Redcliffe Imaging's old premises on Easton Road, Bristol.
Need To Know - Banksy, Graffiti Artist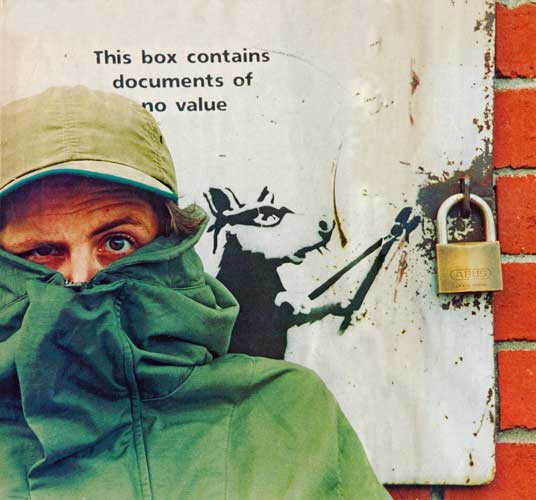 Banksy outside Redcliffe's old building in Easton, Bristol
© Steve Lazarides
'Paul Klee said that his painting was like taking a line for a walk,' says graffiti artist Banksy. 'Whereas my style is like taking a photocopier down a darkened alleyway and roughing it up.'
Despite, or maybe because of, this renegade attitude, Banksy is fast becoming the UK's best-known young artist. It's not only because his large-scale stencilled paintings adorn walls across the UK. Greenpeace used the 27-year-old's stencil art images for its recent anti-deforestation campaign. His first book, Banging Your Head Against a Brick Wall, is now on its fifth print run, and his new book, Existencilism, looks set to repeat the success.
'I like it when information comes at you undiluted,' he says. 'I think that's why I like black and white so much: there's no grey area.' His canvas pieces sell for up to £10,000, and last March, the Electoral Commission, apparently unaware of the irony of aping one of the UK's foremost (illegal) graffiti artists, launched a poster campaign, which borrowed his authoritative, powerful style to encourage young people to vote. And, naturally, he has been approached by multinationals keen to harness his powerful visuals into their marketing plans. 'I've got a great list of people I've turned down,' he grins. 'Nike, Coke and Microsoft. Which is probably more impressive than the things I have done.' Fans - who include Massive Attack, Coldplay and Orbital - would disagree.
Born in Bristol to a photocopier engineer and a receptionist, Banksy left school for an apprenticeship as a pork butcher. 'I was trained to use knives,' he says. 'You can create beautiful things with them.' After deciding that traditional graffiti was not for him ('I was 21 and crap'), he experimented with knives, cardboard and spray cans. He settled on stencils. 'They're quick, clean, crisp and efficient. And that's quite sexy.'
While mainstream graffiti preaches the breaking of rules in every area except style and execution, Banksy has developed a unique twist on the form. He makes 8ft murals of activists throwing flowers at the police, and stencilled sloganeering (one image shows a monkey wearing a sandwich board reading 'You May Laugh But One Day We Will Be In Charge'). Famously, he painted the lines that cinematic prisoners use to mark the passing of time in the elephant enclosure at Barcelona zoo. 'Painting in a zoo is brilliant because you're voicing for something that has no voice - which is why graffiti started.' And last month, he spent two nights scaling the bridge at the start of Hackney's gun-crime frontline in order to paint the message 'Please Drive-By Carefully'.
He might never show inside the Tate. ('Painting's over,' he snorts, 'it's just not entertaining enough. Even Lorraine Kelly on morning TV has more colour and movement.') But last year, he pulled a visual power punch on the walls outside. 'I stencilled, "All artists are prepared to suffer for their art, but why are so few prepared to learn to draw?"'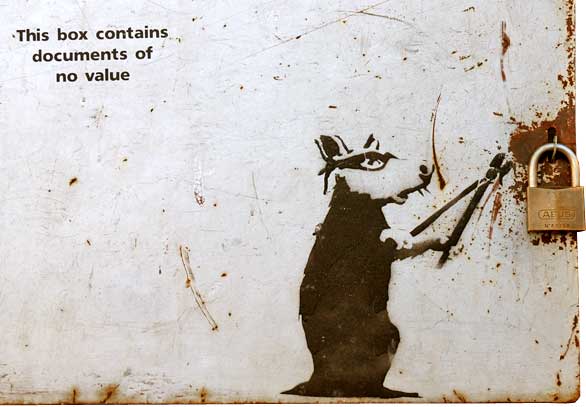 If he does move out of street art, it'll be into the director's chair. He's just finished a pop promo for hip-hop act Blak Twang, and describes cinema 'as the only art form, apart from graffiti, that matters'.
Hollywood watch out. Well, only, that is, if he can break his love affair with adrenalised assaults on blank walls. 'A musician might look at a blank piece of paper and see a symphony on it,' he says. 'I see a wall and I'll see nothing but possibilities. It's like running around with permanent cross hairs on your eyes.'
(With thanks to Emma Warren and Guardian News and Media Limited)
For more information on Banky's Night Box Rat call Adrian Chambers on 0117 952 0105.