Sign and Wall Mounted Supports
With many different types of sign and wall mounted supports on the market. It is really important that you and your client realise the difference in quality and what this really means over a period of time.
Our sign supports are made from solid brass in three parts. The reason the fittings have been made in brass and designed in this way is to ensure that they are quick and easy to install, plus being completely hassle free for many years.
The brass boss sits underneath the sign support fittings making it extremely easy to fit directly to the wall. It has been designed to take a robust screw up to a No.10 thus enabling a secure fix to any type of wall. Once fitted to the wall then the top section of the wall mount or sign support is fitted to suit the style and thickness of your sign.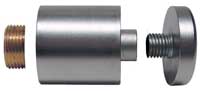 If you need to change signs on a regular basis
There are many cheap aluminum fittings on the market and on the surface they look like they do the same job. Well here are just a few points to consider before going down that route.
As our fittings are made from solid brass the threads do not cross and are not affected by moisture. Believe it or not very little moisture in the air can affect aluminum fittings after about a year. Take the scenario of a reception area. Clients come in from the rain with a moist umbrella, that is all it takes for aluminum to oxidise and what this means is that the fittings become more and more difficult to twist the caps to change the graphics. Clients start using tools and this can damage the sign support.
With a brass support this will not happen even after more than twenty years, as we have tested it on old sites where we have needed to update clients displays. Money can be saved in other ways which can actually enhance the appearance of a sign.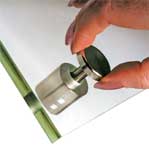 Be creative with the use of fittings and you can save time and money
A simple way to save money is to use a four way spacer in conjunction with a wall mount, to create a matrix effect, by placing the spacer in the middle of four panels, from there it holds the four corners. It will save you time in installing, specifically the marking up and drilling time whereas without using the spacer you would have had to install 16 sign supports.
By using the four way spacer this will now be reduced to 9 and could save your customer money if they are on a tight budget but still allow you to increase your revenue through selling more acrylic.

WM20 use with
WM15-WM17
Give your sign a 3D effect
Should your customer desire a 3D effect to their signage, no problem, this can easily be achieved by making use of a special spacer (PC31) that can be located between panels. This allows you to place one panel in front of the other to create a double/triple-depth display therefore making a strong design statement.


Use with WM15
-WM17 fittings
No need to drill a hole in the panel to fix a sign

Installation time is valuable and if you are looking to save time and resources in this area, use of a special spacer which can be used with the standard sign supports, is a superb way of affixing all types of signs without needing pre-drilled holes. Standard easy access acrylic pockets can also be secured by using the above fitting.

Use with any
16mm diameter fittings
Create a right angle sign away from the wall
Panels can be fitted at a right angle to the wall. Signs can be projected 5mm or 19mm away from the wall and will take panels up to 10mm thick. These fittings can be used to make creature directional signs and feature points around a building.

WM04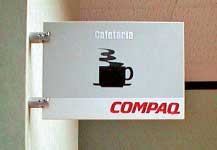 Fitting large panels to the wall - made easy
All our 25mm diameter fittings are supplied with a 6mm lip, which has been designed to rest a panel on while fitting. This is especially useful if you fixing heavy glass and acrylic panels. Make your fitters life easier, save labour time.

All our wall supports are universal, which means larger or small fittings can be positioned over the brass boss once fitted. In addition, toggles can easily fitted directly into channel, which means that our sign supports can be used on to the profiles of many exhibition systems.

25 mm diameter fitting
in 25 - 75 mm lengths
I often get called in to put up signs before the decorators have come in, as they do not want me to get dust down newly deco-rated walls. With these fittings it is really easy. I can put all the brass boss fittings on the wall. The decorator can easily unscrew the barrel and cap, without the need to use any tools and paint the walls without splashing paint over my new sign fittings.
Save your clients time – when changing signs and graphics on a regular basis
When specifiying signage it is really important to find out how often customers plan to change their signs. You will find this will vary tremendously and when one person says frequently, it may mean occasionally to another, so drill down and get exact answers from your client. You will find that some customers have asked for a sand-wich panel when they would really benefit from an acrylic holder that enables signs to be changed without the use of tools. These are available as standard up to A0.
So before you purchase sign supports for your next project think of our sign supports first as this may save you time and more - far more than you would if you had purchased cheap fittings. Hopefully there have been a few tips that you can introduce into your next project whether it is glass, pre-printed vinyl/acrylic or a pocket system allowing you options for increasing revenue whilst helping your customer create the right awareness to their corporate brand.