Shell Scheme or Space Only - Stand Out and Be Noticed
As a first-time exhibitor you want to stand out - the good news is that with a clear understanding of your requirements and a little imagination you can! The alien terminology and endless range of options for stand designs can be bewildering - this guide aims to demystify all that.....
The Basics - Shell Scheme Package Or Space Only
A show organiser will offer you a shell scheme package or space only. Shell scheme packages are pre-erected rows of stands and you turn up and decorate the stand; whereas space only means you just get an area of floor and you must provide everything.
Whatever you go for, don't forget to find out about contractor services, including power and telephone - details are usually found in the show organiser's Exhibitors' Handbook, a good rule of thumb is to assume nothing!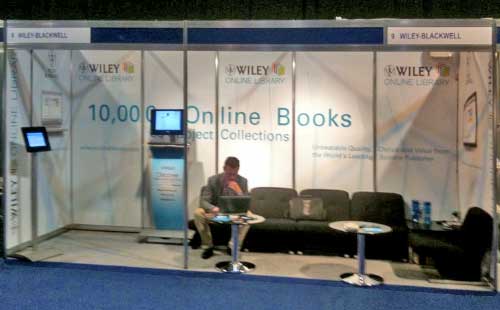 Shell Scheme Package
A shell scheme package is usually the cheapest option and typically includes stand walls, lighting, carpet and possibly a power socket.
A basic shell scheme package is like a blank canvas: stand walls that consist of bare, grey metre-wide panels and a fascia board with your company name on. Exhibitors frequently use pop-up systems and banner stands to fill the space.
Regrettably, every other shell scheme exhibitor at the event starts with the same blank canvas, but you don't have to accept a stand that looks the same as theirs. Even on a small budget your stand can successfully promote your message...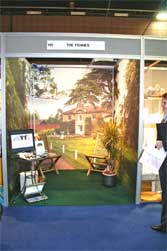 Shell Scheme Graphics
Vibrant full-colour graphic panels incorporating your themes and branding can cover the entire width and height of your shell scheme panels.
Want to stand out when you book a shell scheme at an exhibition - click here for more information on Shell Scheme Graphics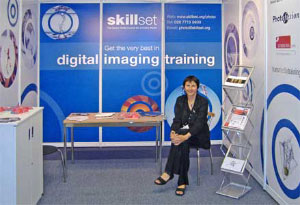 Pop Up Stands
Pop Up Display Stands are lightweight, easily transportable display systems.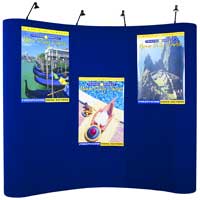 A pop up system with fabric drops.
Posters are velcro attached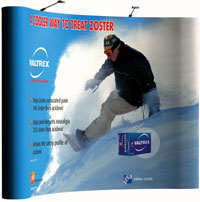 A pop up system with graphic drops.
They are ideal for exhibitions, presentations, or to compliment shell scheme and larger display stands. They are a cost-effective way to visually communicate your product, brand or message.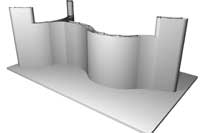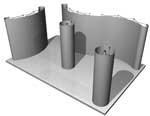 Twist Banners for Shell Scheme Spaces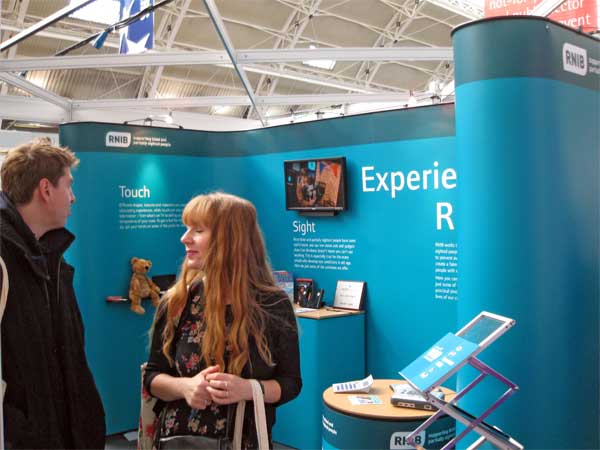 Link Twist banners together and create dazzling walls of free-standing graphics, ideal for shell scheme spaces. The Easy-Link and Flexi-Link kits provide the opportunity to design virtually any configuration. Unlike traditional set configuration systems, Twist can be used like a modular display. Today's display has the flexibility to be reconfigured to fit different sized spaces at future events.
MORE - Twist Banners For Shell Scheme Spaces
Banner Stands
Banner Stands are ideal for in-store promotions, reception areas, or for signage at conference and exhibitions.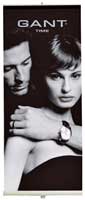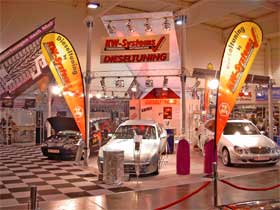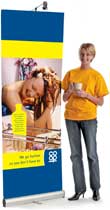 Panel Kits
Choose from the speed, simplicity and lightness of a Folding Panel Kit or the robustness and flexibility of a Panel & Pole Kit.
These are lightweight and versatile display systems. Simply unfold the panels and your display kit is ready to use in seconds.
The Class 1 fire rated panels are fitted with Velcro compatible loop nylon fabric. Graphic panels are Velcro attached into position and can be easily interchanged.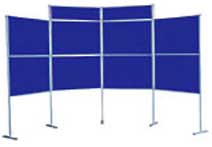 Custom Stands
As your budget increases, so do the options available to you. Space only is when you rent only the floor space - this can be indicated by nothing more than a chalked line on concrete!
This requires a semi-custom, or (depending on the generosity of the budget) a custom-built stand.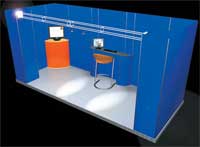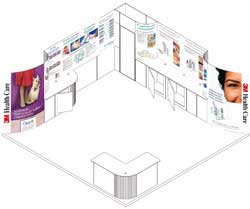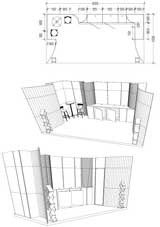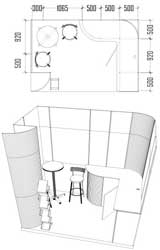 Example of a 6m x 6m modular Panel and Pole stand that can be easily re-configured to create a 6m x 3m or 3m x 2m stand
A modular display system will allow a cost-effective semi-custom build for a space only exhibitor; they are ideal for large, impressive graphic displays in showrooms, shopping malls and at exhibitions.
The main components are versatile and can be reconfigured and reused many times. This allows a modular system to be customized to suit different space requirements.
Your message or design for each event can be customised simply by changing some or all of the graphic panels.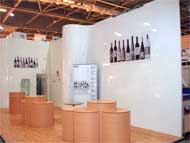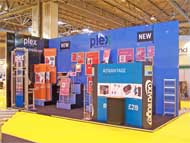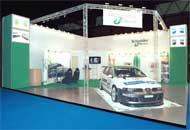 For shell scheme packages or space only, Redcliffe can provide your stand solution.