Flying Banners, Flags And Banner Frames For Your Outdoor Event
More - Portable Outdoor Banners Our portable, durable, quick to assemble range of banners can be used for advertising displays at exhibitions, trade show displays, seminars, sporting events, product launches, in hotel lobbies, reception areas, retail displays, point of sale and more.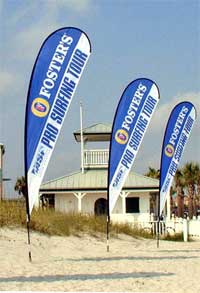 Flying Banners are quick to set up and great for in-store, indoor and outdoor use.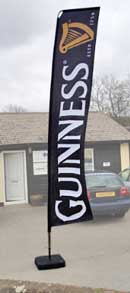 The innovative rotating mechanism of these stands allows them to feather out of the wind.

The innovative rotating mechanism of these stands allows them to feather out of the wind.
Banner Stands - The cost Effective Portable Display Solution
Banner stands are one of the best high impact and cost effective portable display solutions to advertise your product or service. This makes banner stands ideal for in-store promotions, reception areas, directional signage at conference and exhibition venues or to compliment larger display stands.
These freestanding, quality banner stands come complete with custom printed graphics and are available in a range of widths and heights and consist of a banner (the graphics) and a stand (the hardware that displays the graphic).
The flexible graphic panel of a roller banner stand is rather like a window roller blind and the mechanism allows the graphic to retract into the aluminium base when not in use. All roller banner stands come with a padded carry bag for safe storage and transportation.
All Redcliffe banner stands are sturdy, highly portable and supplied in a shoulder carry bag for ease of transportation.
The banner arrived this morning, it's a lovely job - thanks to all involved - District Marketing Manager, Jobcentre Plus
Banner Stand Assembly
If speed is of the essence a roller banner is ideal - assembly typically takes less than one minute.
Simply pull the graphic out of the base and attach to the top of the pole.
As the name suggests, the graphic rolls into and is stored / protected by the base of the stand.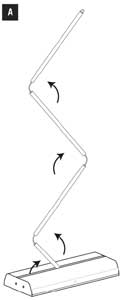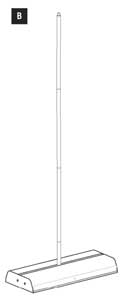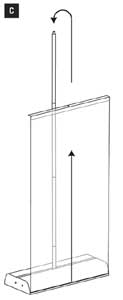 Artwork for Banner Stand Graphics
We normally produce your banner graphic directly from artwork you supply, see our artwork specifications for display graphics. If you are unable to supply your own artwork then just ask us to create the design or layout for you from either a detailed brief or using your own logo, text, pictures and background. Just decide what message or information you are planning to display, this could be in the form of a simple Word document or fax showing the desired layout, we will then produce a design for you to see and approve before producing your banner stand display graphic.
Prices for banner stand artwork creation and proofing start from £30.00, we will do our best to ensure you get sound advice on achieving a great looking design to help you stand out at your next event. For more advice on how our design service can help you, just call Wayne Cullinane on (0117) 952 6069 or Ellie Bartlett on (0117) 952 6062.
Read More ... Design Briefs for Dummies Design Briefs for Dummies - You've been asked to organise production of a display stand for a pending event that's been overlooked for a few months, then someone panicked because the show date is looming and parked it on your desk. You ask if the artwork is ready to send - but are greeted by silence and the vision of tumble weed spinning by.
Recyclable Banner Stands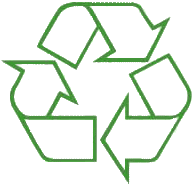 Recyclable Aluminium - The hardware of our banner stands is made from 100% recyclable aluminium. The recyclability of aluminium is unparalleled as recycling does not damage the metal's structure, aluminium can be recycled indefinitely and still be used to produce any product for which new aluminium could have been used.