Window Graphics
Shop or office window graphics are a cost effective way to create new business
Marketing professionals have long recognised the value of high impact window graphics and the way it can so effectively catch the eye. We can help you get your message across and offer a variety of window films that enable graphic and photographic images to be converted into a decorative film for interior or exterior glass.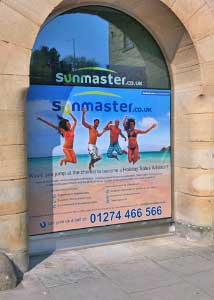 Contra Vision® Licensed 50/50 One Way Vision Window Graphics
Ideal for external use on buildings or vehicle windows. You can create new, innovative advertising, sign and decor opportunities without obstructing the view.
It allows the full graphics image to be seen on one side and still allows viewing through a window from the other side.
Why not make use of special Contra Vision® licensed Perforated Vision Film allowing one way vision through the glass. See-through window advertisements, signs, or decorative designs maintain the view out and daylight in.

50/50 One Way Vision Window Graphics
Easy Dot Window Graphics - highest colour brilliance and photorealistic print quality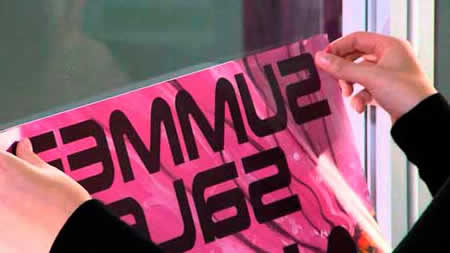 "Easy Dot" is an easy way to apply window graphics, with practically no bubbles. Residue-free removal with environmentally friendly waterbased adhesive. Great for all these applications:
Window graphics
Glass office partitions
Retail signage
POS displays
Trade show graphics
If you have struggled with vinyl applications, struggled with wrinkling or bubbles and spent time trying to get a smooth flat application, then Easy Dot Window Graphic is the answer. The key to its ease of installation is the special dot patterned adhesive which creates air channels that allow for a bubble and wrinkle free installation. No special tools are needed - not even a squeegee!

See the complete guide to Fitting your Window Graphics